Our Products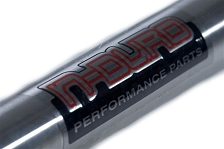 NDURO AXLES
We manufacture them with Passion, Strength and Quality and you can be rest assured it wont let you down! – Our Range of axles are made of a very high quality steel only available to us with a formulation of high strength, hardness and corrosion resistance, unlike other axles available with a coating or plating to stop the metal from rusting and to make it look pretty!
Our Standard to 2+2 axles come with a Lifetime Warranty against Bending or Breaking and our 3+3 to 7+7 axles are ideal for road use for stability and amazing looks for your road going ATV! TUV Certification Also Available. Custom Axles Also Made.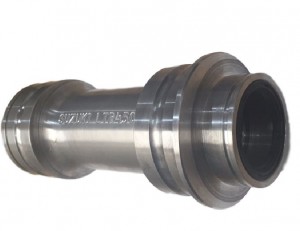 We Also Now Manufacture Axle Carriers for all makes and models – we can also reverse engineer them if they are no longer available from a Manufacturer – this is especially useful for Chinese models etc.
Upgrades to Carriers can included Heavy Duty Seals and Bearings and Double Row Bearings for extra Durability.
All are made from Billet Aluminium.
---
 AGRIMEK QUAD BIKE, UTV SPRAYERS & WEED WIPERS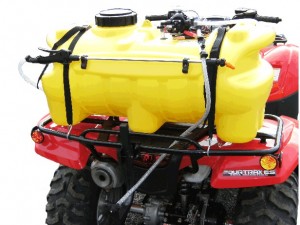 From Boomless Sprayers to Boom Type We have the complete range.
55l, 95l Spot Sprayers for your Quads or 150l, 220l for UTV Side x Side Use.
We Assemble them here in our Manufacturing Faciltiy in the UK so you can be rest assured the quality is second to none!
Agrimek ATV Solutions only use Quality Components and are Distributors for Shurflo Products and these pumps are used on all our Sprayers.
We Manufacture the Obiltorator Weed Wiper System please contact us for more info. New for 2015 is our 4′ Wide Oblitorator Weed Wiper.
---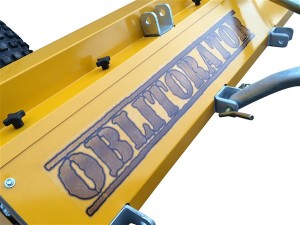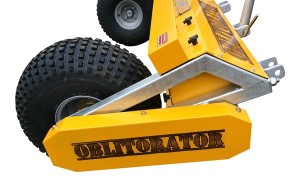 OBLITORATOR 1800 & 1200 WEED WIPER SYSTEM
Get rid of those weeds in a more environmentally friendly way without spraying directly onto the grass.
Ideal for Chemical Application to various weeds such as Rushes, Docks etc.
No Tools Required for Height Control – Quick & Easy Single Handed Ratchet handle Adjustable from 100mm off the ground to 500m high
 Swan Neck Quick Detach Drawbar with Swivel Hitch to reduce drag through thick weed growth before you wipe, Off-settable to the Left or Right with easily removable pin system.
Floatation Tyres to allow the wiper to reach wet areas that tractors cannot get to without damaging the ground.
Contra Rotating Natural Wool Roller to get chemical to the underside of the leaf.
Advanced Bubble Jet Nozzle Technology to place the chemical in bubbles onto the Wool Roller to allow the chemical to be distributed directly onto the weed and burst upon impact
Comes With a 55l 60psi Tank System with Hand Lance for Spot Spraying. Fully Galvanised Heavy Duty Steel Frame.
---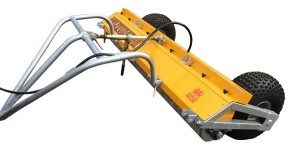 ---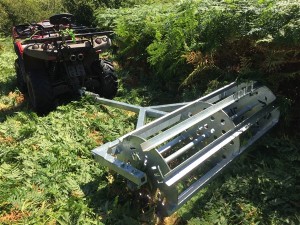 Trailed Bracken Bruiser
With an Active SSSI on their land Agrimek ATV Solutions had to come up with a more suitable cost effective, environmentally friendly but heavy duty way of controlling Bracken on the land as part of their Management Agreement. They came up with this Fully Galvanized Mechanical Bracken Bruiser Roller. they had a lot of bracken on their land and this was a welcome help in tackling the invasive plant.
The Bracken Bruiser Roller, bruises the stems of the bracken every 170mm, causing the stalk to bleed, which lowers rhizome activity, resulting in reduced growth in subsequent years. This then allows the grass and other plants to grow without the continued shadowing of the bracken.
The Bracken Bruiser is fitted with two heavy duty 45mm Roller Pillow Bearings and a Safety Swivel Hitch as Standard.